Cork Flooring Considerations:
We have experts in our team for Cork Flooring Installation In Vancouver. We are focused on providing hassle-free flooring services to our clients.
Cork is low in density and very lightweight.
Cork is quite durable. You will often find it in public buildings because of its durability.
Cork has several sound absorption qualities and is often found in churches and libraries.
Cork is soft to walk on and is sometimes more forgiving on your joints than hardwood. There are millions of air filled cells, which also makes it a great choice for retail stores, kids playrooms, and where people spend several hours on their feet.
If you use Cork Flooring in Vancouver, it can benefit by reducing the transmission of heat, vibration and sound and is therefore a great insulator. Air is sealed in each of the cells insulating from the adjacent cells with moisture resistant, waxy like substance. A cubic cm of the honeycombed shaped cork cell contains about 40 million hexagonal cells. These cells are composed of almost 90% of an air like gas, which makes cork flooring a great choice for recording studios and other places where sound needs to be kept to a minimum.
Cork maintains an even temperature that is never too hot or too cold. It also reduces heat loss in rooms because of the encapsulated air cells. Cork also reduces heat loss in rooms because of the encapsulated air cells.
Suberin is a substance that naturally occurs in cork. This makes it resistant to mold, mites, termites and bugs. This substance also refrains it from rotting and makes it a natural fire inhibitor. Upon combustion, cork does not release any toxic gasses.
People with allergies are big fans of cork floors because of its hypoallergenic properties. Cork floors do not absorb dust and are very useful for people with asthma and respiratory diseases.
Cork is also very resilient. Because of those same air cells that help with heat loss, sound absorption and softness, cork can return to its original shape even when exposed to heavy weight and pressure. This is an advantage over hardwood flooring.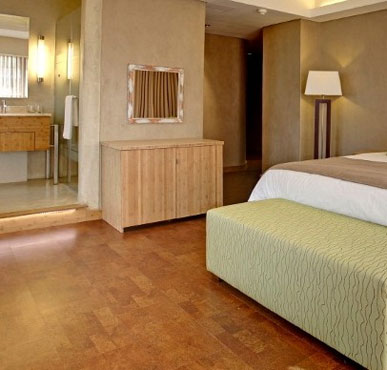 Good for the environment:
No trees are destroyed or damaged when harvesting cork.
It is better than a renewable resource because it is a harvested resource (only the bark is harvested from the tree).
Most are recycled products as they are made from the waste cork from wine stoppers.
Water based adhesives and finishes can be used to make it completely environmentally sound.
"The 9 Year Law" was passed in the 1930's. This keeps cork from being harvested any sooner than every 9 years. The trees have to reach at least 60 cm in circumference before it can be harvested. The first harvest from a cork tree can only occur at age 25.
Options:
Cork comes unfinished and pre-finished. There are many different types of finishes that are both harmful and safe for the environment.
In areas that can get wet, such as kitchens and bathrooms, it is recommended by most manufacturers to use water based polyurethane sealant.
If the subfloor is dry and level, cork floors can be glued, pre-glued or clicked together for installation.
Cork floors can also be floated because of their tongue and groove.
Some cork floors have beveled edges that allow the floor to naturally expand and contract without buckling.
Design Options
Cork comes in mosaics, plank shapes and tile shapes.
Several different patterns of cork floors are offered. These differ from very wide abstract patterns to small and tight patterns.
colours range from natural cork colour to vibrant, bold colours.
Burning the cork before it is compressed in combination with varying granule sizes creates the different colours and patterns that make cork such a unique product.
Maintenance
Cork will fade if exposed to direct sunlight. Furniture and flooring should be moved periodically to even out the fading from sun and UV exposure.
Cork is very easy to maintain especially with polyurethane coatings.
Humidity should be maintained at 50-60% as the cork can sometimes react.
Cork floors should be swept and vacuumed often to avoid the buildup of dirt, which can scratch the finish.
Do not use abrasive cleaners or solvents, especially those that contain glycerin. These products can harm the finish making it impossible to refinish.
A neutral PH detergent (PH of 6-8) should be used to clean cork floors either by misting over the floors and mopped with a damp mop or with a wrung out sponge.
Spills should be wiped up immediately.
Chairs placed on cork with casters should have minimum 2″ casters.
Mats should be placed under chairs with casters to protect the finish from becoming dull.
Furniture or chair feet should sit on wide coasters to prevent excessive indentation.
If damaged, cork can be repaired.